Transistor.fm was created to make podcasting less confusing and as somebody with 5 years of podcasting under my belt, I can say they've succeeded.
They aren't perfect and may not be right for everybody, but what I saw during Transistor's free trial was enough to get me to leave Libsyn (read the review). 
Since making the switch, I've had no regrets, but that doesn't mean everything is perfect.
To help make you choose the right podcast host for you, I'm sharing everything I found when reviewing Transistor.fm—good and bad.
Pros 
Easy to use

Powerful features

Beautiful podcast sites

Fast and helpful support

Free trial
Cons
Key Points
Ease of Use
When judging the ease of use of a podcast host, I'm looking at two areas: how easy is it to get started and how easy is it to publish new episodes. Transistor excelled at both.
As soon as you get started, it becomes obvious how much thought was put into every design decision because Transistor is as intuitive to use as an app can be. 
Without reading any docs or needing to click through dozens of windows to find the right options, I quickly imported my podcast and got everything set up.
I wish that during the import process they kept me up-to-date on the status, but importing 150 episodes took less than 30 minutes so it wasn't that big of a deal.
It also wasn't immediately clear to me what I needed to do to update everything in Apple Podcasts, but their help docs were easy to navigate and laid out all the steps needed. 
They've kept the process simple for adding a new episode and make it clear exactly what you need to do.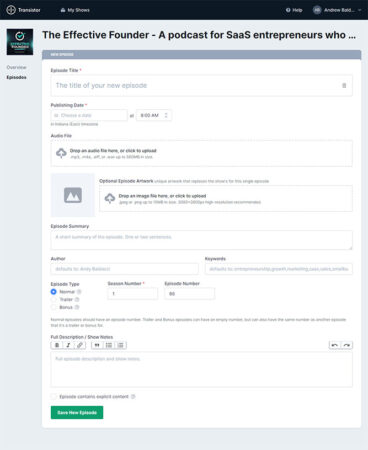 Coming from Libsyn where you have to go through 5 pages of confusing options to publish a single episode, this was truly a breath of fresh air.
I can say without a doubt, Transistor is the easiest to use podcast host on the market.
Cost
Transistor offers 3 plans: Starter ($19/mo), Professional ($49/mo), and Business ($99/mo). 
Every plan allows for an unlimited number of podcasts and episode storage but there is a monthly download limit of 10,000, 50,000, and 150,000 respectively.
They don't have a free offering like PodBean (read the review) and Buzzsprout (read the review), but their Starter plan should cover most podcasters and is competitively priced for what it includes. 
Not to mention, you only pay more when your audience grows, while most competitors charge based on the number of hours or amount of storage you upload.
Hosted Site
Transistor gives you a beautiful website that you can quickly setup and customize to match your brand—including using your own domain. 
This site for Business Dad was all done without a designer or programmer and likely just took a few minutes to get dialed in.
I already have my own site up and running, but if I didn't have that in place I'd be more than happy with what Transistor gives me out of the box.
You won't get a better site from any other podcast host.
Embeddable player
Transistor's embeddable podcast player is really slick. I used to pay for Pat Flynn's fusebox (formerly Smart Podcast Player) and while that gives you more options, Transistor's player has everything I need and honestly looks better.
Judge for yourself:
Do they support multiple podcasts
With Transistor, you can host as many podcasts as you want under a single plan. However, if your shows get more than 10,000 total downloads a month, you'll need to upgrade from the Starter plan.
For most of us, that's plenty and if you're getting more downloads than that, the extra cost is justifiable.
While other podcast hosts let you have multiple podcasts under a single account for convenience, you'll still have to pay for separate plans for each of them. Castos (read the review) is the only other major podcast host that includes unlimited podcasts on a single plan.
Do they support private podcasts?
Transistor offers private podcasting on their $49/mo Professional plan which is cheaper than Podbean ($99/mo) but more expensive than Castos ($19/mo). 
There are important differences between how private podcasts work on each host, so if this is an important feature to you, check out my deep dive on The Best Private Podcast Host.
Analytics
One of the weaknesses in podcasting is the lack of good analytics because the RSS feeds that power all podcasts don't allow for deep insights.
We still can see how many people listen to each episode, follow trends, and get the general pulse of our audience, but we don't get nearly the level of granularity you may expect on the web.
All podcast hosts are going to offer you these stats and Transistor is no different.
Where Transistor does stand out is that they allow you to easily export your data so that if you decide to switch podcast hosts, you won't lose all of your historical data.
Support
With the app being so easy to use, not many issues came up, but when they did I was able to easily find the answer in their help docs.
I haven't run into anything I couldn't fix myself, but I did have a question about whether or not they alter your uploads—some sites will re-encode your files at a lower quality to save storage space and bandwidth.
I messaged them via their in-app widget and got a reply in less than an hour and a half confirming they make no changes to uploaded Mp3s.
I have no complaints here and in talking with other customers and researching other reviews, they seem to consistently have some of the best support of any podcast host.
My Take
Going into this, I wasn't sure I'd find enough benefit in a new podcast host to make me switch from Libsyn. I had been with them for 3+ years and while they were a pain to work with, I never had any technical issues with them.
After using Transistor for just a few minutes though, it was clear just how much better they were and I decided to make the switch.
It's not that Transistor isn't without flaws, but none of the flaws were deal breakers and came down to small annoyances at worst. When compared to all of the other podcast hosts out there, Transistor truly stands out for offering so much power while still being the easiest to use host.
If you're looking for a free podcast host or a WordPress podcast host, then Transistor may not be right for you.
But if you're looking for an affordable podcast host that doesn't drive you crazy every time you upload an episode, look no further than Transistor.fm