With podcasts exploding in popularity, there are a host of new podcast hosting options on the market. Some of them are great. Many of them are…not.
Podbean is not new to this game—In business since 2006, this hosting platform was one of the early entrants into the market. Experience doesn't guarantee quality, of course, but they are doing enough right to stay in business for 15+ years.
Should you launch your new podcast on this hosting platform? I've broken down the key factors to help you make an informed choice.
Pros
Competitive pricing for an unlimited plan
Livestreaming feature
Built-in advertising marketplace
Cons
Free plan limited to 5 hours total
Complicated and limited approach to private podcasting
Key Points
Ease of Use
The Podbean interface is simple and easy to use. It falls in line with many of the other hosting options in this category, like Castos, Buzzsprout, and Transistor.fm.
Once you sign up, you should have no trouble starting a new show or importing a current show to the host. To import a show, you will need to provide the RSS feed info which isn't a big deal, but it is a minor hurdle to get up and running.
Cost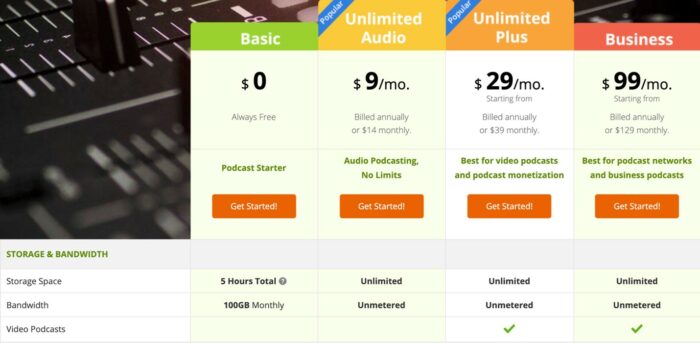 Pricing shouldn't be the determining factor when picking your podcast host, because the difference between them is usually just a few dollars per month.
Shopping only on price may leave you with a host that doesn't offer everything you need for a successful podcasting experience.
That being said, if you're on a tight budget for this project, Podbean is worth your attention. With their free plan, you can host a total of 5 hours of audio. This won't allow you to run a long-term show, but it's a decent starting point.
On the paid side, you can get an unlimited plan for $14 per month, which is a great deal. Competitors like Castos and Transistor.fm charge $19 per month for a similar package.
Again, I don't think a $5 difference per month should be the basis for your choice. But, if you like the other features offered by Podbean, the competitive price will be appreciated.
I recommend Buzzsprout as the ideal host for new podcasters on a limited budget. They offer the best free plan on the market, so you can get your show up and running without spending a dime on hosting if you so choose.
Hosted Site
Most of the hosted sites provided by podcast hosts are mediocre at best—some of them don't even deserve to be called mediocre.
Podbean does a great job of providing more than the bare minimum in this category. You can thoroughly customize your hosted site when you have a paid plan, including picking from multiple site themes.

Do the sites look great? That's a matter of personal preference, though I would say they are more decent than great. Either way, if you want to make use of a hosted site rather than building out your own website, Podbean is a contender.
If you would like the best-looking hosted site available, consider Transistor.fm. You won't have the same level of customization as you get Podbean, but the site looks better overall.
Embeddable Player
Podbean offers an embeddable player for your podcast, as do all of the other major hosts. This player will handle the basic task of presenting your show to the audience, but it lags behind the looks and features of the competition.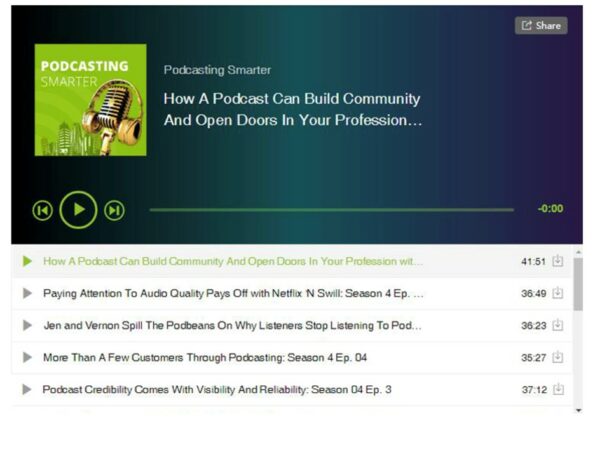 The importance of the embeddable player depends on how you plan to promote your show. If you have a website and will be using its traffic to grow your podcast, an attractive, functional player will be important.
Multiple Podcasts
Planning to run more than one podcast? You can host all of your podcasts under a single account with Podbean, but you need to pay for a separate plan for each show. If you have more than one show, look at Castos or Transistor.fm for the ability to have them all on one plan.
Private Podcasts
Not all podcasts are freely available in places like Apple Podcasts, Spotify, and Google Podcasts. With a private podcast, you can require listeners to have a paid membership in order to download your content. You could make your entire show private or have special episodes that are only available to subscribers.
Unfortunately, while private podcasting is technically possible with Podbean, it is not integrated seamlessly. Your subscribers will have to pay through the Podbean app, which is an awkward hurdle if you already have members paying you through another platform. This added friction will likely limit the growth of your private podcast and will make it harder to manage.
If you would like to start a private podcast or would like to have the option available, look at Castos instead.
Livestreaming Capability
One of the strongest features of Podbean is its livestreaming option. Rather than simply recording a show, editing it, and publishing it, you can offer a live show to engage with your audience.
Livestreams are a popular option for many YouTube channels, and this same concept can work nicely for your podcast. Adding live podcasts is a great way to build a loyal, engaged community around your show.
If you're interested in live podcasting, Podbean is your best choice.
Support
To test Podbean's support, I sent an email asking a couple of basic questions.
Do you alter or re-encode audio files in any way? For example, if I upload 320kbps mp3 will my listeners get that exact file?
Do you allow exporting podcast statistics?
This message was sent late on a Thursday night, from an email address not registered with their service.
I received an answer back in a manner of minutes. These answers were direct and appropriate for the questions that were asked. Here are the replies:
"We do not alter uploaded files. They'll be published as they're uploaded."
"Yes we do. You can export your stats in an Excel spreadsheet file."
Based on this interaction, Podbean seems to offer quality support.
My Take
Livestreaming is easily the standout feature of Podbean podcast hosting. If you would like to include livestreams as part of your show, Podbean is an excellent choice.
Other positive attributes include customizable hosted sites, a built-in advertising network, and fair pricing. Those are all welcome benefits, but it's the livestreaming capability that is the main differentiator compared to other hosts.
If you are already on Podbean, I see no reason for you to switch to another host. Any improvements you might find with another host would be modest unless you want to start a private podcast, in which case you'll want to look closely at Castos.
Planning to start your first show? Your choice of podcast host should depend on your priorities.
Podbean is the right choice if you want to host live podcasts.
Castos is the best overall host, including powerful features for private podcasting, WordPress integration, multiple shows, and more.
Transistor.fm offers a great design and an excellent user interface.
Buzzsprout is the winner on cost if you want to minimize expenses.