Buzzsprout is one of the biggest players in the podcast hosting market. Based on that alone, you might think they are worthy of your attention—and they are.
…but they're also known for offering a lucrative affiliate program, which gives marketers a compelling reason to promote their services.
So, is Buzzsprout popular because it is a good podcast hosting option, or is their success a result of nothing more than an aggressive marketing plan?
Before trying Buzzsprout for myself, I was a bit skeptical.
Fortunately, that skepticism was unfounded, and my experience with this service has been largely positive. While they're not the right host for everyone, Buzzsprout is an option worthy of a spot on your list of contenders.
Let's take a closer look at everything Buzzsprout has to offer, so you can make an informed decision when choosing your host.
Pros
Offers a free plan (that's actually useful!)
Paid plans feature affordable pricing structures
User-friendly interface
Cons
Does not offer the ability to customize your podcast website
Podcast audio is automatically re-encoded
Key Points
Ease of Use
If you're starting a new podcast, pick one that is easy to use. You want to invest your time creating great content and building an audience, not figuring out how to manage the technical details of publishing each episode.
Buzzsprout gets great marks  with a modern, intuitive interface that anyone with basic computer skills will be able to manage without a problem.
If you're starting a new show, you'll be able to get up and running quickly and easily, and each new episode can go live in just a matter of a few clicks.
For those switching from another podcast host, such as Libsyn (read the review), Buzzsprout's simplicity is appealing. If you feel that you have been spending too much time trying to manage the behind-the-scenes work related to your podcast, consider giving Buzzsprout a try to streamline your process.
Cost
Price matters—Even if a host offers every last detail that you hope to find, it won't work for your needs if it doesn't fit your budget.
Buzzsprout is one of the most affordable hosts in the marketplace. For starters, they offer a free plan to let you test the waters without spending a dime. And, surprisingly, this free plan is rather generous and will allow you to get your podcast off the ground nicely.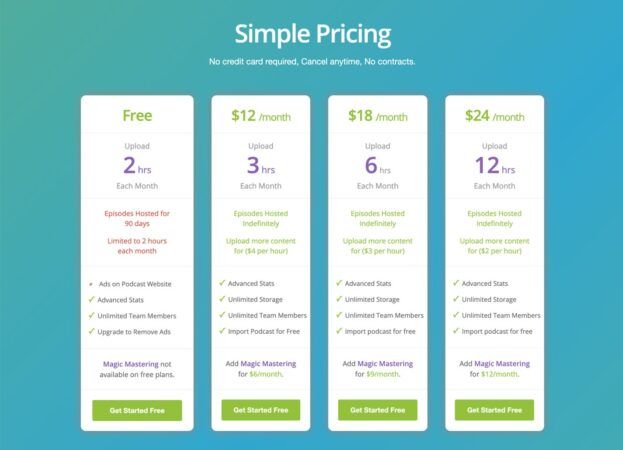 If you decide to start with their free plan—which, as a new podcaster, you should—keep in mind the following limitations:
Limit of two hours of content each month
Episodes are only hosted for 90 days
Ads are placed on your podcast website
Those are reasonable limitations given that it's free, and if your show is successful, you can easily upgrade to a paid plan later.
Speaking of paid plans, this is one area where I take issue with Buzzsprout's pricing. The rates are very reasonable, but you're limited to a set number of hours of content you can upload each month. At the low end, you can upload three hours of content for $12/month, or you can go up to 12 hours of content for $24/month.
Those prices are quite competitive, but I would prefer to pay based on the popularity of the show, rather than the amount of content. You don't want to worry about bumping your plan to the next level if you decide to go long or release an extra episode.
Other hosts, such as Transistor (read the review), establish tiers based on download numbers, which lets you put the creative process first
Hosted Site
Most podcast hosts host a basic website where all of your episodes can be found. The bulk of your downloads will likely come from other places – like Apple Podcasts, Spotify, etc. – so most podcasters don't view these sites as being particularly important.
That being said, these sites will still come up in Google when looking for your podcast, so you don't want it to be embarrassingly bad.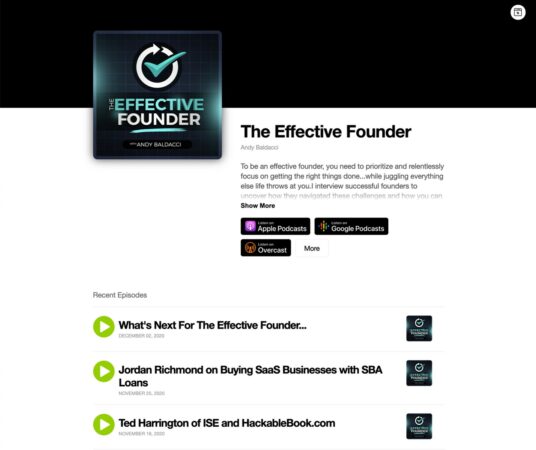 Buzzsprout's site is modern enough to be acceptable, but you can't really customize the site (only the background color can be changed). This is in contrast to Transistor which gives you a beautiful site with tons of customizations.
Embeddable Player
If you have your own website where you would like to embed episodes of your podcast, a player is available from Buzzsprout as part of your plan. And, I am happy to report, it's pretty good!

All of the standard features for any quality podcast player are here— changing speed, social sharing, etc.— and it looks nice embedded on your site. Not much else you can ask for.
Multiple Podcasts
Planning to launch more than one show? That's an option with Buzzsprout, but you will have to pay for a plan for each show. In other words, you can't divide up your allotted monthly time between two shows – each show is required to have its own plan.
Private Podcasts
Private podcasts are becoming more and more popular, but this is not an option currently offered by Buzzsprout.
Support
Even with a great, easy-to-use podcast host, you're going to need support at some point along the way. I've tested the response time and quality of the responses I got from Buzzsprout support to see how they stack up.
To test their support, I sent two messages on a Saturday evening – one from my paid account, and another (from a different email address) as a non-customer. Impressively, even on a weekend evening, I received a detailed reply to both messages within hours.
The answers I received directly addressed my questions, and I had everything I needed to solve the problem I presented. Based on this quick test, I am impressed with Buzzsprout's support and would expect to get the help I need in the future.
My Take
Based on my experience, Buzzsprout is an excellent podcast hosting option. It offers a clean, uncluttered interface, fair pricing, and solid support.
If you are a new podcaster and would like to experiment with starting a show, Buzzsprout is the easy pick as your host. You can get started for free and if you decide to stick with it, they offer some of the most affordable plans on the market.
There are cases where Buzzsprout is not the best option, however:
If you want a private podcast, go with Castos (read the review)
If you're hosting multiple shows or a high-quality hosted site is important, Transistor is the way to go
Some podcasters may not like the re-encoding of audio, as it could degrade quality in some cases. However, paying $6/mo in addition to your plan can improve audio quality with their "Magic Mastering" service
No one host is right for every single show, and the points above highlight cases where another host may be the better choice. But for a new show, especially if you want to start that show on a free plan, Buzzsprout is your best choice.