Let's get right to the point –Castos is the best all-around podcast hosting platform on the market today. If you want to jump right into your podcasting experience as fast as possible, sign up for a free trial at Castos and get started.
And that's the end of the review!
Well, not quite…
For those of you who would like to get into the specifics, I'm happy to help. This review will highlight the many benefits, along with the few minor drawbacks, of Castos as a podcast hosting platform.
Pros
The best private podcasting in the business
Outstanding WordPress integration
Optional editing service
Cons
Minor user experience issues
Limited customization of your hosted site and podcast player
Key Points
Ease of Use
You will find the process of creating a new show, or migrating an existing show, simple and easy to manage. Even with no experience, you can be up and running in a matter of minutes.
I did run into a few points during the setup process that were not as intuitive as they could be. Transistor.fm is the gold-standard in this industry from a user experience standpoint, and Castos falls just short of that mark.
With that said, I don't feel like any shortcomings here should lead you in another direction. Even if you do run into a couple of issues along the way, those will be one-time stumbling blocks that you will easily be able to overcome.
Cost
Castos pricing is comparable to other players in this industry. In fact, their three pricing tiers are an exact match to what is offered by Transistor.fm. However, if you look a little closer at the details, you will see that Castos is actually the better value.
Even at the "Starter" level of $19/month, you get unlimited everything – podcasts, episodes, and downloads. You won't find this offer with other hosts.
For instance, Transistor.fm imposes a limit of 15,000 monthly downloads at their $19/month level. If you have a popular show already, or plan to upload a lot of content, the lack of limits is a huge advantage with Castos.
Hosted Site
Included with your Castos account is a clean, modern, attractive hosted site for your show. All of your episodes will be available on this site, and you can use it as you see fit.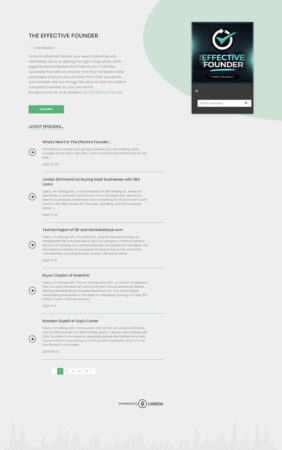 While the site is attractive, it doesn't have the customization options of some other hosts. Podbean has a variety of themes available for hosted sites on their platform, and that's something not available here.
Away from the hosted site, Castos is easily the industry leader when it comes to integrating with your existing WordPress site. If you have a website where you have been building an audience already, incorporating your show into that site with the Seriously Simple Podcasting plugin from Castos is a breeze.
Embeddable Player

As with all other major podcast hosts, Castos offers an embeddable player that can be used on your site to make your show available to visitors. This player isn't as customizable as I might like to see, but it looks good and has everything that your listeners will expect.
Multiple Podcasts
You're free to have as many podcasts as you'd like within a single Castos account. This is a major advantage over other hosts if you plan to run multiple shows, as most competitors require a separate account for each individual show.
When you combine unlimited shows with an unlimited number of downloads, you have a service that will scale right along with you.
Private Podcasts
Castos leads the way in private podcasting. Whether you're a large corporation creating a show to connect with employees, or you have a community of followers who want to consume your content regularly, a private podcast with Castos will suit your needs.
It's the simplicity of the private podcasting experience at Castos that elevates it above the competition. While other hosts require complicated setups that will create friction for your users, Castos is as easy as could be. Add the name and email address of each subscriber to your private show, and you're done.
I do need to point out that you will need to upgrade your hosting plan as your collection of private podcast subscribers grows. You can go up to 100 subscribers at the $19/month "Starter" level before you'll need to upgrade.
For a point of reference, Transistor.fm only gives you access to private podcasting on their $49/mo plan, so this is still the best deal on the market.
Support
My experience with Castos support has been nothing short of outstanding. Each time I've asked a question, I've received a helpful response. Those responses have been quick to arrive, as well. In one instance, my question was answered in just a matter of minutes. You can expect the Castos team to be there with excellent support anytime you need help.
My Take
I didn't exactly leave any suspense in this review. As stated in the intro, Castos is the best all-around option for a podcast hosting platform. If you choose Castos for a new show or as a new home for your current show, I know you'll be pleased with their service.
Specifically, Castos shines if you have private podcasting ambitions, or if you want to integrate your show with a WordPress website.  In these cases, Castos is the hands-down winner and I wouldn't bother considering any other hosts.
Are there situations where another host might make sense? Sure. If you are planning to incorporate livestreaming into your show experience, Podbean is the way to go. For those who demand a beautiful user interface, Transistor.fm is worthy of attention. And, if the only thing that matters to you is securing the best possible price, check out Buzzsprout.
In a crowded market, it can be hard to sort through the hosting options to pick out the one that delivers value across the board. In my opinion, it's Castos that does the best job of covering everything that should matter in this space, which is why I'm confident in giving them my recommendation.